---
M1601 Emperor grade, Tribute round tea
Huáng Chá Yùpǐn Gòngchá
Emperor grade, Tribute round tea is the special puerh tea made from very young tea buds by Dayi's most advanced tea make. The mellowness and smoothness are distinctive from other cooked puerh tea.
home > Tea search > Emperor grade, Tribute round tea
---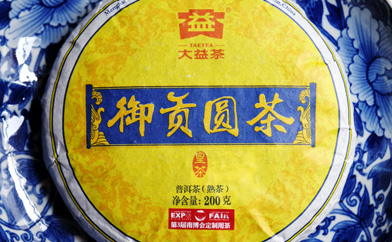 ---
Emperor grade, Tribute round tea
Item code

M1601

Unit price

24.57 USD


(61.425 USD / 100g)

Package

40g

/ 200g

Stock

In stock
Displayed weight is for one package (40g). Ship whole piece of tea (200g)if you ordered 4 packages.

Shape
Loosen tea cake
Year
2016
Manufa-
cturer
Menghahi
Region
Menghai tea area
Type
Cooked
Speci-
alties
Royal class puerh tea
Appliciations
Sweetness

★★★★★

Mellow

★★★★★

Astringency

★☆☆☆☆

Bitterness

★★☆☆☆

Acidity

★★★☆☆

Aroma

★★★★★

Maturity

★★★☆☆
Discription:Emperor grade, Tribute round tea
This Emperor grade, Tribute round puerh tea is made as an Imperial Puerh tea. That means this is the real "Imperial Puerh tea".

The yellow and blue color represents Chinese emperor. and red mark stamped in the center "皇茶" means Emperor's tea.

As you open the wrapping paper, you can find fine young tea buds are formulated from cake-surface. Tea cake is firmly compressed even you can sea the mesh of the bag used in compressing tea leaf. It might be hard to break by hand. It is recommended to use "Tea knife"(茶刀) to lose tea leaf.

The taste is mellow and smooth which imply this tea is made from very young tea buds. It is well ripen under Dayi's excellent fermentation technology. This tea adopted what we call "third generation fermentation technology" and achieved very even fermentation without unfavorable flavors generated in traditional cooked tea(熟茶) manufacturing process.

From the infused tea leaf, you can confirm the quality of tea leaf. Tea leaf are small however, it is soft and well fermented. This is a sign of good tea.
---
Reviews
後味に陳年生茶に近い香りもして、とても気に入りました。
東京都 T.Y様
今回も支障なく、しかも、いつもより一日二日早く届きました。
皇茶 御貢圓茶も、すっきり感では特筆に価しますが、それだけではありません。強めに感じる甘みも、大益ブランドの同系統の五子登科に比べ、一拍遅れてくる感じで、後味の切れの良さが爽やかです。香りは五子登科の小豆系のそれではなく、月餅の皮のような焼き菓子系の香りです。それにしても、葉底の細かさには圧倒されますね。宮廷級の熟茶は何種類か飲みましたが、こんな細かいのは初めてです。もとよりミネラル感たっぷりで、後味に陳年生茶に近い香りもして、とても気に入りました。
---
---