Shopping guide
home > Shopping guide
---
About shopping at Puer-Café. Purchase, Shipping and etc.
Purchasing tea at Puer-Café
Puer-Cafe is an online puerh tea store opened in 2009. Puer-Cafe is based in Hefei city, Anhui province, China. Puer-Cafe is under Chinese law. Tea will be sent from China.
Also, please refer to Terms & Conditions page for more information.
Shopping flow at Puer-Cafe
1

Choose tea

Click "Add to cart" button on the tea product.

2

Select shipping, fill in shipping address form

After selecting tea, you can browse what you have in your cart on "Your cart" page. Follow the instructions to complete shopping.

3

Receive "Order confirmation" e-mail

Order confirmation e-mail will be sent to your e-mail account once you click "Place order" on "Final confirmation" page.

4

Payment

You will be directed to Paypal website to pay with your credit card or Paypal Account. If you do not have Paypal account, please sign up.

5

Shipping of puerh tea

After confirming your payment, we will ship puerh tea in 3 days. We will send confirmation e-mail after tea is dispatched.

6

Delivery of puerh tea

Post office will deliver puerh tea to your address. Please follow the instruction of post office where you live for delivery detail.
About Air freight
Tea will be ordered by "Air Freight" service provided by China post. It usually takes 1-2 weeks to reach your country. transportation in your country is depending on logistic service in your location.
About shipping fee
You can select your country when you purchase tea. The fee for delivery will be calculated based on the number of tea you have ordered. The shipping fee may change sometimes according to currency exchange rate.
Tier 1

Asian countries groupe A
Korea, Mongolia, Vietnam, Japan, South Korea, Kazakhstan, Tadzhikistan, Turkmenistan, Kyrgystan, Uzbekistan

Tier 2

Asian countries groupe B
Remaining Asian countries

Tier 3

USA, Euro and Oceania countries
USA, Europe, Canada, Australia, New Zealand

Tier 4

Other
Remaining America and Oceania country, African country
| No. of tea | Tier 1 | Tier 2 | Tier 3 | Tier 4 |
| --- | --- | --- | --- | --- |
| 1 | 3.6 USD | 4.5 USD | 5.5 USD | 6.4 USD |
| 2 | 5.5 USD | 6.8 USD | 8.2 USD | 10.0 USD |
| 3 | 7.3 USD | 9.1 USD | 10.9 USD | 12.7 USD |
| 4 or 5 | 9.1 USD | 11.8 USD | 16.4 USD | 18.2 USD |
| 6 to 8 | 11.5 USD | 16.4 USD | 20.0 USD | 27.3 USD |
| 9 to 12 | 12.3 USD | 19.5 USD | 26.8 USD | 34.1 USD |
| 13 to 15 | 13.2 USD | 21.8 USD | 30.9 USD | 40 USD |
| More than 16 | No. of tea x 0.8 USD | No. of tea x 1.5 USD | No. of tea x 2.0 USD | No. of tea x 2.5 USD |
Cancellation of your order
We accept cancellation before payment. Basically, we do not accept cancellation after payment as we have already started shipping process.
About stock number
Our stock count is batch updated. It sometimes happen the system shows "In stock" however, it is actually out of stock. In such case, we will cancel the order and refund your payment if it is already paid.
Payment
We accept payment through Paypal system including major credit cards.
Please refer to Paypal website for the detail.
Tea price variation
The value of puerh tea increases as tea is aged. We will revise the price of puerh tea accordingly. We also revise tea price according to currency rate.
Days to deliver tea
Air freight

It usually takes 1-3 weeks by Air freight service. It is subject to your country and shipping condition.
It takes 1 to 3 days before shipping after your payment.
*Post office in your country deliver tea. Service is subject to mail service in your country.
Packaging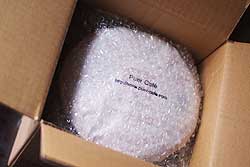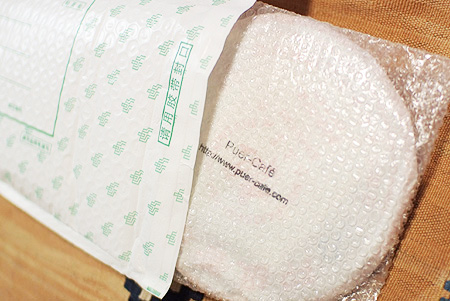 We have to type of wrapping. 1. Alminum coated package with seal for loosen tea. 2. Original wrapping paper for compressed tea. We will wrap tea with bubble bag, then pack in cardboard box or envelope with bubbles inside.
Trouble in shopping
Puer-Cafe shall be exempted from responsibility for any damage while shipping /transporting. Please contact post office in your reagion for any transportation related issues.
Refund
Due to the nature of tea product as food, Puer-Cafe shall not accept the return of goods owing to customer's reasons. We may accept refund in case of defects in Puer-Cafe.
About our puerh tea
Please be reorganized following notes for puerh tea. We appreciate your understanding.
As a nature of tea, wrapping paper of puerh tea sometimes have spots caused by absorbing tea ingredients. It is considered to be a good sign of the quality of puerh tea.
Due to production process, puerh tea sometimes contains foreign objects such as chaffs, wood chips, seeds, plastic strings, especially in old puerh tea made by farmers. Newer puerh tea has less possibility to contain such foreign objects.
Wrapping paper of old puerh tea has holes due to "tea bug (茶虫)". It is understood tea was under controlled warehouse, and it will not impact the puerh tea quality.
The weight of puerh tea changes by humidity contained in tea leaf. Weight displaied in our web site is based on the weight specified by puerh tea maker. Actual tea weight could be less (or more) than the weight shown on our web pages. It is especially true for old puerh tea stored over many years.
Puerh tea sometimes get damaged while storing/transporting over time. We try our best to select puerh tea in good conditions for you. However, some of the tea already have severe damage on original wrapping paper through long time storage, as a mitigation, we re-wrap every puerh tea with our Puer-Cafe wrapping paper to eliminate your concerns for further storage.
Our puerh tea is made in China and is shipped from China. It is customer's responsibility to import tea to your country.".
Defects in puerh tea
In case defects on the puerh tea was found, please send e-mail to trouble@puer-cafe.com. Also, see "About our puerh tea".
Import of tea
Customer needs to import tea by own responsibility. Most country has their regulation regarding to import of tea product, however, most of the countries exempt tax or custum declarations for personal import of tea as well. Please contact to your custom for detailed procedure for import. We have shipped tea to USA, Japan, Korea, Vietnam without issues. Following are the some references.
Import tax
Import tax is usually not applicable to personnel import of tea (Camellia Sinensis) in most of country. However, it is strongly recommended to confirm with customs of your resident country for more detail.
Quarantine
Quarantine is not applicable to personnel import of tea (Camellia Sinensis) in most of country. However, it is strongly recommended to confirm with customs of your resident country for more detail.
Problems in usage
If you have any problems/unusual symptoms after taking puerh tea, please stop usage and contact your doctor. As a nature of personal import, the use of good is on your own risk, however, if you have any comments on our puerh tea, please send e-mail to support@puer-cafe.com.